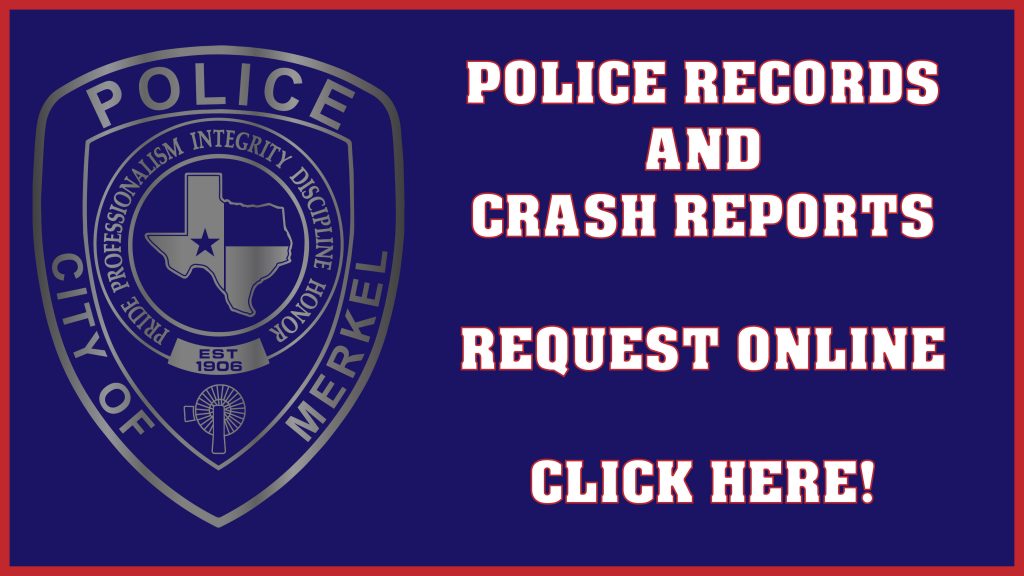 Chief:  Phillip Conklin
Police Officers:
Cody Branson – Lieutenant
Keri Willyerd – School Resource Officer
Jeff Lake – Reserve Officer
Tammy Allred – Reserve Officer
Dean McClain – Reserve Officer
Phone:(325) 928-4766     In Case of an Emergency Dial 911
MISSION STATEMENT
The mission of the Merkel Police Department is to effectively and efficiently provide for the protection of lives and property, preserve the public peace, and provide needed community services with the highest level of professionalism and ethical standards.
PRIDE:  Pride in community, Pride in profession.
PROFESSIONALISM:  An Officer will always project a professional image that will instill the confidence of our community.
INTEGRITY:  It is the most important core value to maintain the upmost integrity in all things we do.
DISCIPLINE:  An Officer will always maintain proper discipline.
HONOR:  An Officer will have a good reputation; a good quality of character as judged by other people and keep a high moral standard of behavior.  HONOR ABOVE SELF.
Complaint & Compliment Procedure
A Message from the Chief:
The Merkel Police Department is a unique and dedicated law enforcement agency. The core values of Pride, Professionalism, Integrity, Discipline, and Honor define our character and guide our interactions. Every citizen we deal with deserves to be treated equally and fairly. Therefore, we welcome both criticism and praise and take it seriously. Our officers work hard each day on behalf of the citizens in our community by enforcing our state and local laws. Our goal is to effectively provide a safe community for people to live, work, and visit with the highest level of professionalism and ethical standards.
The Texas Government Code (see Section 614.022 below) requires our agency to accept signed, notarizes statements (originals) only. All signed complaints are reviewed at the executive level. If you wish to be contacted and/or notified regarding the status of your complaint, you may contact 325-928-4766, Ext 110.
We value your input. Thank you for taking the time to help us serve you better.
Phillip Conklin, Chief of Police                   
Compliment Procedure
Have you had an encounter with a Merkel Police Department officer or employee who showed extraordinary professionalism, compassion, bravery, or another form of excellence?
We would love to hear about it!
This form is an opportunity to recognize and give commendation's to officers and employees with the Merkel Police Department who have gone above and beyond their duties to serve our community and visitors to our city.
The Merkel Police Department thanks you for your interest and for taking your time to show your appreciation for our MPD officers and employees.
Complaint Procedure
GOVERNMENT CODE
Chapter 614. PEACE OFFICERS AND FIRE FIGHTERS
Subchapter B. COMPLIANT AGAINST LAW ENFORCEMENT OFFICER OR FIRE FIGHTER
SEC. 614.021. APPLICABILITY OF SUBCHAPTER (a) Except as proved by Subsection (b), this subchapter applies only to complaint against: (1) a law enforcement officer of the State of Texas, including an officer of the Department of Public Safety or of the Texas Alcoholic Beverage Commission; (3) a peace office under Article 2.12, Code of Criminal Procedure, or other law enforcement officer who is appointed or employed by a political subdivision of the state; . . .
Sec. 614.022. COMPLAINT TO BE IN WRITING AND SIGNED BY COMPLAINTANT. To be considered by the head of a state agency or by the head of a fire department or local law enforcement agency, the complaint must be: (1) in writing; and (2) signed by the person making the complaint.
Note: By department policy, complaints must be notarized.
IMPORTANT – Please read the following statement:
Texas Penal Code Title 8, Sec. 37.02. PERJURY.
(a) A person commits an offense if, with intent to deceive and with knowledge of the statement's meaning:
(1) he (she) makes a false statement under oath or swears to the truth of a false statement previously made and the statement is required or authorized by law to be made under oath; . . .
(b) An offense under this section is a Class A misdemeanor.
To obtain a form to file an official WRITTEN COMPLAINT, please print off the PDF file below and complete:
OR go in person:
Merkel Police Department
100 Kent Street
Merkel, Texas, 79536
Administration Hours: Monday – Friday 7:30 AM – 4:30 PM
Courtesy Patrol Request – Residential ONLY
Merkel Police Department offers a Courtesy Patrol Request to the citizens of Merkel. The program is for home owners or residents who are going on vacation or plan to be away from their home for an extended period of time not to exceed 30 days. The Merkel Police Department Courtesy Patrol is free of charge and while you are away, Police Officers will monitor your property for inappropriate activity or emergencies.
Enlisting the police department to keep an eye out for suspicious activity while you are away from home does not guarantee against loss, theft, damage or mischief but it can be a useful deterrent to anyone who may be considering accessing your home for criminal purposes. To enroll in Courtesy Patrol Request simply fill out the below Courtesy Patrol Request Form. Complete the form and submit it. If you have any trouble using the available online form, you can visit The Merkel Police Department at 100 Kent Street, Merkel, Texas to request this service. The Merkel Police Department recommends that your request be completed at least one week prior to your departure date to ensure the request is processed in time. For questions or concerns, please call 325-928-4766.
Whether or not you utilize this free service, there are steps you can take prior to departing to safeguard your property…
stop mail and newspaper delivery
leave shades/blinds in normal positions
put automatic timers on lights; set the timers so they will turn on and off at random times in different rooms
leave a key with a trusted neighbor in case of emergency
lock all windows and doors
have someone park a car in your driveway occasionally
arrange to have the lawn mowed
shut and lock your garage door