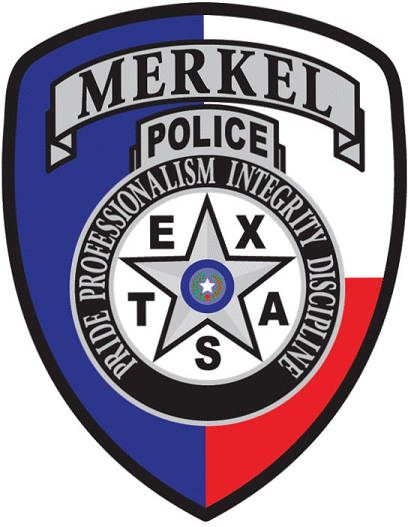 Chief:  Phillip Conklin

MISSION STATEMENT
We will take pride in the agency we work for, treating each individual with respect and  professionalism, while keeping integrity and self discipline at the forefront of our department for the greater good of the city of Merkel, Texas.
PRIDE: To take pride in our quality of work and accomplishments within the police department and the community.
PROFESSIONALISM:  Keeping with the strict standards of education and training that equips our officers with the knowledge and skills to perform in their roles of the profession, while sticking to the strict codes of conduct as well as enshrining rigorous ethical and moral standards.
INTEGRITY: Remaining true to our character regardless of the consequences and never compromising our ideals or morals even if it affects the outcome.
DISCIPLINE: In what we based on pride, on meticulous attention to details with mutual respect and confidence for our community, forming the habits of never ending duty, commitment and sacrifice that we give to the city of Merkel Texas.
Dispatcher: Taylor County Sheriffs Office
Phone:(325) 674-1300
In Case of an Emergency Dial 911
Police Officers:
 Amber Thompson – Reserves Officer